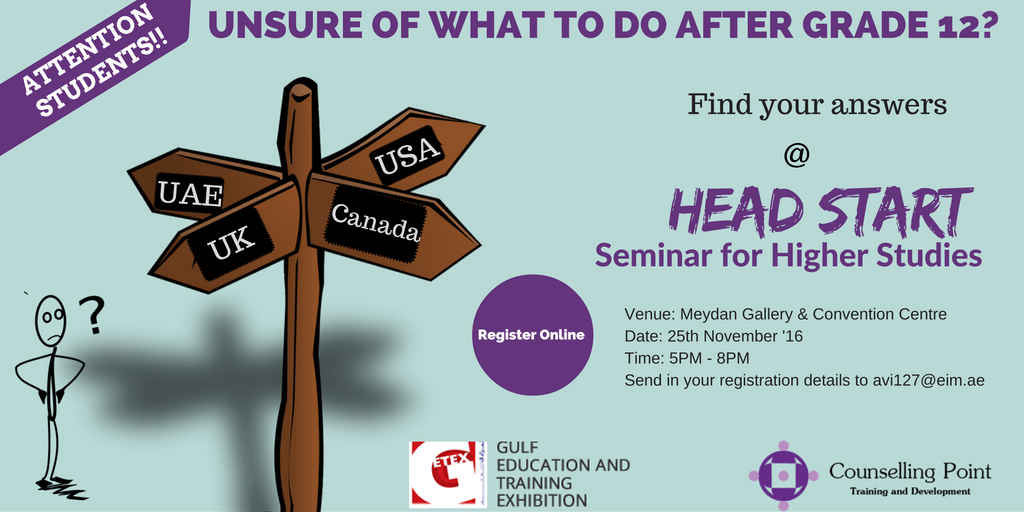 20 Nov

Counselling Point At GETEX '16

Hello Folks!

It's event time at Counselling Point, and we couldn't be more excited!

It was just last month that Sheikh Mohammed Bin Rashid Al Makhtoum said that said tolerance was the foundation for stable communities and sustainable development. A month later, the world is witnessing the truth behind these words and everywhere people are rallying together to build a tolerant society, without discrimination and misogyny. In light of this, Counselling Point's annual seminar , 'Head Start for Higher Studies' is focussing on tolerance, both from the perspective of educational institutions and our own personal development. There will also be selection of presentations from alumni of universities in UAE, USA, UK, Canada and Australia about campus life, admission procedures and processes and general university life. The event will be held in conjunction with GETEX 2016 at the Meydan Galleria this Friday between 5PM to 8PM, to celebrate this spirit of tolerance. See you there!